Looking for a face and body painting service near you?
The Futuristic FacePainter from Portage Indiana produces the best possible face and body painting using paints that don't smudge easy, so you stay looking great longer. This provides a great value for the custom artwork provided. He also tries to paint fast so the lines stay short and there is less wait time. The painting process is painless and quick, while providing excellent value and entertainment for your money.
Body & Face Painting
Whether you prefer simple or elaborate custom freehand and airbrushed art piece on you face or body, the Futuristic FacePainter will certainly not disappoint. Want to create a fantasy themed painting party for your kids? Got a party, festival, concert, or pub crawl your attending and want to look and feel exceptional? Having a baby and want to create one of a kind memories?
Young and old will come alive with the tremendous feeling that comes with becoming a piece of art. Get inspired, feel wonderful, and have a fun time with the friendly professional help from the artwork and creative mind of the Futuristic FacePainter.
List of Painting Services:
Private Parties
Holiday Gatherings
Birthday Parties
Corporate Events
Store Promotions
Product Promotions
Large or Small Scale Events
Festivals
Concert
Pub Crawls
Bars/Clubs
Restaurants
Bachelor or Bachelorette Parties
Maternity Belly Painting
Baby Showers
Costume Play Events
Theatrical Stage Make-up
Glow Painting – Blacklight Painting
Mesmerizing your friends and family with UV black-light masterpieces. Fluorescent paints will make your face and body paint art glow in blacklight. The long wave ultraviolet makes your stunning art come to life in the darkness of a blacklight.
This style of art is truly visually exceptional and uses visible and invisible blacklight paints. Let the Futuristic FacePainter help make your event or party a masterpiece by providing the exceptional look of UV painted face and body art for your guests .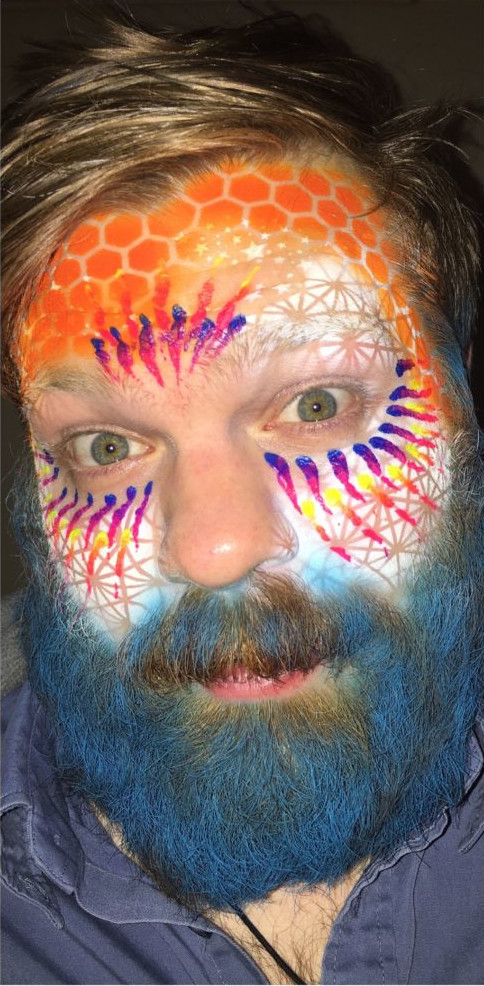 Hundreds of Stencils Available
The Futuristic FacePainter has been collecting stencils for a several years. For the more intricate stencils he will have them machine cut, but one of his favorite hobbies is to cut his own custom stencils.
For a small fee, he will cut custom stencils of your choice before your event, which allows for a more personal touch to your body and face artwork.